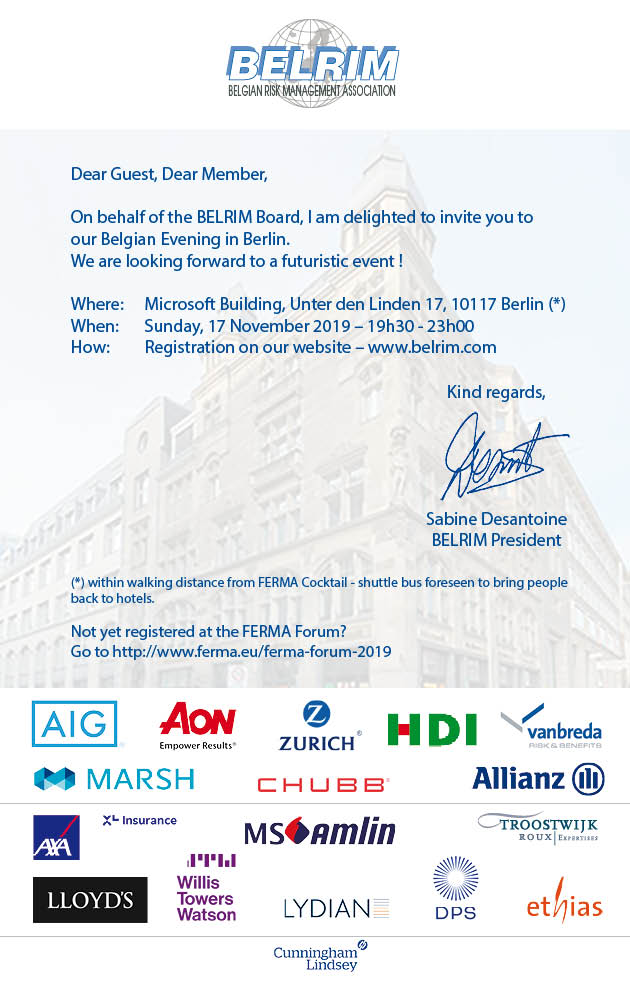 Print your invitation here: BELRIM invitation berlin 2019
It is now widely recognised by most boards and risk management and IT security professionals that it is not a question of if, but when a cyber attack will occur.
Increasingly sophisticated cyber attacks can catch even well-governed organisations off-guard, exposing them and their customers to possible identity theft and fraud, and threatening the organisation's reputation, customer base and revenue.
The cyber risk landscape is constantly evolving, and the threats have gone much further than putting just a company's data at risk. Business interruption and associated reputational concerns have never been voiced by organisations as much as they are now, but still we know awareness remains an issue and companies are still being far too reactive in their protocols.
Cyber 2019 - Belrim Invitation
Agenda :
14:00 – 14:30 : Welcome Coffee
14:30 – 14:35 : Welcome Introduction - Sabine Desantoine, President, BelRim
14:35 – 14:45 : Agenda + bio Guest Speaker & Panel Members - Yvan Van Keymeulen, Risk Strategist, AIG
14:45 – 15:30 : Presentation on Climate Change Risks, Trends, Reactions & the Importance of Modelling - Marc Lehmann, Head of Cat Management Solutions, AIG
15:30 – 15:45 : Break
15:45 – 16:30 : Panel Discussion on NatCat and the impact on Risk, a practical approach

Panel Members :
- Laure Dubreuil, Global Risk & Insurance Manager, Eurofins
- Sunil Thakar, Risk Management Consultant
- Carl Leeman, Chief Risk Officer, Katoen Natie
Moderator : Yvan Van Keymeulen, Risk Strategist, AIG
16:30 – 17:00 : Q&A
17:00 – 18:00 : Network Drink
Our extraordinary general assembly takes place at AGFA-GEVAERT on 20/06/2019. 
It will be followed by a guided visit of this historic site and a BELRIM exchange on Intellectual Property Rights 
An official invitation will be sent out to all our members. 
RSVP by 07/06/2019. 
We would like to insist that all effective members send back the proxy enclosed in the invitation. 
Programme: 
13h00 – Welcome members 
13h30 – Extraordinary General Assembly 
14h15 – Site tour of Agfa-Gevaert in Mortsel 
16h00 – BELRIM Exchange: Intellectual Property 
17h30 – Networking Drink 

Due to strict and special safety requirements we need the following information: 
Your name, your company and your licence plate number, 
You are kindly requested to answer by 07/06/2019 as there is limited available place. 


In collaboration with AGFA-GEVAERT, BELRIM organises this exchange on Intellectual Property Rights issues & solutions. 
About the Exchange 
What is intellectual property (IP)? 
Intellectual property refers to "creations of the mind: inventions, literary and artistic works, and symbols, names, images and designs used in commerce". 
It is "divided into two categories: Industrial property, which includes inventions (patents), trademarks, industrial designs, and geographic indications of source; and Copyright, which includes literary and artistic works." (Source: World Intellectual Property Organisation) 
Intellectual property (IP) is one of the most valuable company assets. In today's business world, protecting those assets against third party infringement can be both complex and expensive. 
The same is true when it comes to protecting yourself against claims from others that you have infringed upon their patents, trademarks or other creations. 
Intellectual property insurance could be a smart way of protecting these valuable assets.
How to improve visibility on the risk exposures of your company's IP?

What is the underwriting and claim cycle?

Through the feedback of its speakers, the ambition of this exchange will be to provide valuable insights into this specific topic: 
Speakers :
Hans Strijckers, Intellectual Property Manager at Agfa-Gevaert

Marie L'Affeter-Gebert, Directrice Souscription IP - France, Tokio Marine HCC


Frank Ruttens, Business Unit Manager at Agfa Labs
Presentations and slides will be in English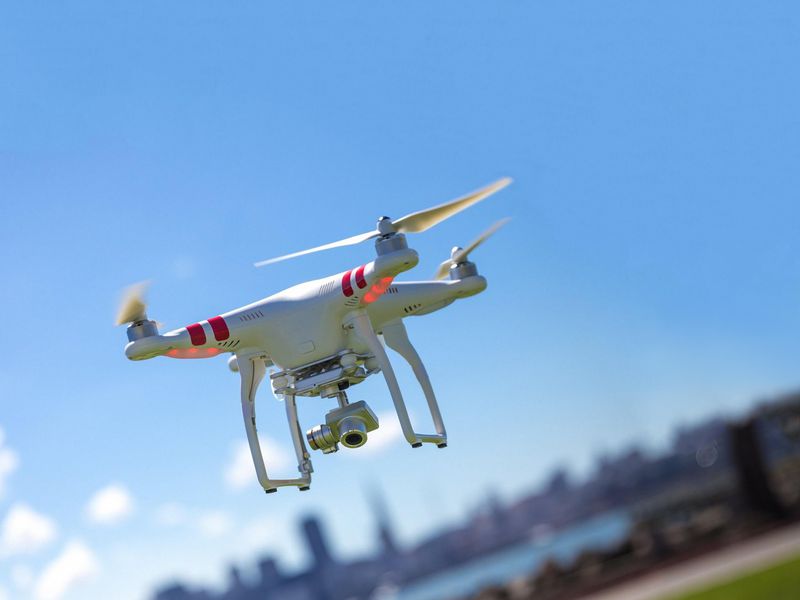 Legal and technological developments have contributed to the increased use of unmanned (aerial) vehicles by companies for commercial or own use.  Whereas these developments create opportunities, they also represent risks.
BELRIM and Vanbreda Risk & benefits are therefore delighted to organize for their members and clients an exchange on this topic. The Exchange is hosted by DronePort in St-Truiden.
Programme
13h00 - 13h30 Reception/Welcome
13h30 - 14h00 DronePort - Introduction of the campus - Mark Vanlook - CEO DronePort
14h00 - 14h30 Drones as a damage assessment tool in agriculture and horticulture - Mark Vanlook - President EUKA
14h30 - 15h00 Drone applications in the industry - Michiel Scharpé - Trinova
15h00 - 15h30 Counter drone measures - Guy Rombouts, sr. system engineer BATS NV & Stefan Pauwels, Business development manager ALX Systems
15h30 - 16h00 Drone risks - insurance solutions - claims examples - Koen Bauwens - Product Manager Vanbreda
16h30 - 17h15 Demonstration and guiding around at "Drone Port" - Mark Vanlook - CEO DronePort
17h15 - 18h00 Network drink
REGISTRATION IS POSSIBLE UNTIL 16/05/2019
SLIDES
20190523 Trinova_Belrim_Drone applications in the industry (1)
In collaboration with AGCS, BELRIM organises this exchange on Supply Chain issues.
The globalization of trade and the quest for greater competitiveness have been accompanied by an increase in the complexity and fragility of the supply chain.
By pushing the boundaries, by multiplying the actors involved, our sourcing and distribution models expose the company to new risks that go far beyond operating losses. These risks become extremely difficult to evaluate and quantify.
How to know your supply chain?
How to improve visibility on the risk exposures of the supply chain?
How to identify and evaluate them?
What tools and methodologies can we use to improve risk resilience?
Are there insurance solutions?
Through the feedback of its speakers, the ambition of this exchange will be to provide concrete answers to the Risk Managers' questions on one of the main risks of the company.
Speakers :             Georgi Pachov, Global Practice Leader, Cyber & BI, AGCS. 
                              Alexandra Pfalzgraf -  VP Insurance & Risk Management – Schneider Electric
                              Laurent Giordani -  Associé fondateur – Kyu Associés (cabinet de conseil en Management)
Presentations will be in English and French - Slides will be in English
Career Development and Career Promotion moderated by Hudson (Katia Van Bel and Zorana Gligoric)
It is always a good idea to stop and think about one's career.
Hudson will run through the various steps on how to promote yourself internally and externally and get the best out of your career.
A small survey will help them make the event tailored to your needs. REGISTER before 08/03/2019 and scroll down to find the questions.
These are meant to give us (and you) the opportunity to better know our audience, to understand the questions and thoughts you are currently having on your professional status, ambition and satisfaction. Using your responses, we will try and provide you with answers, topics and consulting on the subjects that come the most often. Hence, we will not treat this questionnaire on an individual basis, but rather group the answers (when possible) to see what are the most important trends/thoughts in this working group.
We thank you in advance for your participation (which is of course completely voluntary)!
Hudson Team
Looking forward to seeing you all!
WHEN: 26 MARCH 2019 - 12h00 - 14h30 (sandwich lunch included)
WHERE: PROXIMUS - Carlistraat 2 - 1140 Brussel/Evere
BELRIM in partnership with HDI GLOBAL invites you to our next exchange on
E-mobility & autonomous driving: challenges for risk and insurance management
Have you already taken the time to reflect on risks and responsibilities linked to driverless vehicles?  Or on the risks that go along with e-mobility?  We all know the stories about the lithium-ion batteries.  But do we understand the risks?  And can we manage them?  How is the insurance market reacting to this evolution?
This exchange will give you some insights (and some food for thoughts) on the next topics:
-          E-mobility
What is really meant?  What is the status on the batteries?  Are they really dangerous?  What risks are there during manufacturing, transport, storage, use and recycling?  What if the battery in cars, e-bikes or buses cause damage to third parties ?  Can all these risks be managed and insured?
-          Autonomous driving
Where are we today and what to expect in the future?  What happens if the car causes an accident?  Who will be responsible?  Which insurance will pay?  Do we need to rewrite the traffic code?
With support from his colleagues and together with Carl Leeman from Katoen Natie, Glenn Van Mele from HDI Global will give you insights in these topics.  And will answer whatever question you have regarding e-mobility and autonomous driving.
This exchange will be followed by a networking drink.
Register now!
WHEN: 21/02/2019 - 13h30 - 18h00
WHERE: Club of the University Foundation - Egmontstreet 11 - B-1000 Brussels
PARKING Deux Portes