More info to follow soon.
More info to follow soon.
Belrim Exchange – Project Risk Management – April 19, 2018
Corporate strategies and business benefits are mostly realized through projects. Managing risks in projects is therefore a critical success factor for all leading companies.
Belrim decided to devote its April's Exchange to Project Risk Management.
This event is meant to be a real "exchange" for its member companies and their (Project) Risk Managers and Project Managers.
Program:
"Introduction Project Management Institute", by Frank Turley, Director of Professional Development, PMI Belgium
"New trends in Project Risk Management", by Erik Leung (Project Management Institute – Chapter Belgium).
"BELRIM - 2018 Barometer of Project Risk": key lessons learned, by Marc Doorenbos (Pro Temporis)
Three simultaneous workshops, facilitated by experienced Risk Managers, to exchange ideas and experiences about Project Risk Management key questions:
Workshop 1: how do contracts and insurance policies respond to project risks, in the building and engineering sectors? (facilitation by Nathalie Vandenbroucke – BAM) - NL
Workshop 2: How to manage concurrent influencing factors (local, human, social, political, legal, technology, environmental, dependencies with other projects, governance, etc.) in a project? (facilitation by Yves Brants – NRB and Marc Doorenbos (Pro Temporis)) - FR
Workshop 3: how to define objectives and to mitigate the related risks for both a contractor and its customer, in function of the contract type (e. LSTK/EPC, EPCM)? (facilitation by Gil Dehogne – Yara and Erik Leung – PMI) - ENG
Interested?
Participate in the online survey "BELRIM - 2018 Barometer of Project Risk", available from 23 March to 13 April.
 CHOOSE the workshop you wish to attend and REGISTER for the April 19 Exchange
VENUE: Kasteel van Huizingen - Torleylaan 100 - Huizingen
TIMING: 13h40 - 17h30
More than 30 years after the first use of the concept of safety culture by the AIEA (1991), experts and researchers agree that the performance of a safety management system is depending on the level of organizational safety culture. If this concept is continuously considered for explaining the performance or the shortcomings of a safety management system, there are however curiously relatively few largely admitted indicators allowing to quantify the level of safety culture and to identify clear enablers allowing to monitor and to improve the level of safety culture.
Which is our current level of safety culture ? Which are the enabling factors that explain our level of safety or risk culture ? Which primary action plan is meaningful in order to increase significantly our level of safety culture in a short, middle and long term perspective respectively ?
This exchange presents the results from an university doctoral research focused on the development of a generic tool able to measure the level of safety culture in an High-Reliability Organization (HRO) and on the identification of explanatory and enabling factors allowing for an increase of this (level of ) culture.
This research is essentially based on key theoretical models such as the ones proposed by Cooper (2002) or Hollnagel (2003, 2006) and integrates them to a largely accepted reference model for performance and quality management, the EFQM excellence model (2013). We highlight mainly the roles played by the nature of the leadership, the human resources as key dominating resources and the quality of partnerships/partnering , coupled with the completeness of the processes, on the increase in the level of organizational safety level.
The main advantage of the tool and the results that are presented during this exchange is their adaptability to different risk approaches (health and safety at work, financial risk, environmental risk, business continuity, ...) and to different types of organizations (HROs but also SMEs, public organizations, not-for-profit organizations, ...).
Marius Kamto won the BELRIM Prize for his PhD paper on this topic. Professor Didier Van Caillie of the ULg was his promotor.
3 specialists in this field will share their know-how:
OECD BEPS proposals and its potential impact on captives and captive owners – Praveen Sharma
Discussion and overview of the criteria used and applied by Belgian courts and tax authorities on the treatment of captive reinsurance structures – Hugo Keulers
FERMA view and initiatives taken with the OECD on how captives should be structured and operate to continue to play a key role in the group risk management – Carl Leeman
INFO CONCERNING PARKING FACILITIES & ITINERARY
The event takes place from 12h00 till 14h30.
Find FERMA Booklet HERE
Risk Frontiers Brussels 2017 : Cyber risk – Rising to the challenge
The annual Risk Frontiers Brussels conference, now in its sixth year, will focus on the ever increasing cyber issues affecting business in Europe.
As well as the threat of cyberattack that looms on the horizon in today's business environment, the ever present risk of simple technical breakdown or IT failure are other often overlooked threats to industry.
Leading European and international experts will explain what the market is doing to help mitigate and transfer some of these exposures, and delegates will be able to focus more closely on key topics in a series of breakout sessions during the day.
Topics include:
The risk landscape, including a look at the impact of digitalisation and IoT
Legal and regulatory cyber framework in Europe, including GDPR
Supply chain cyber risk – exposure, liability, cost and mitigation
IT Failure, BI and Industrial Control Systems
Crisis response in the event of a cyberattack or breakdown
Internal and external threats – people, culture and awareness
Risk identification and mapping
Cyber risk transfer and claims
Book your space now! Attendance is free for risk managers, £120 for other delegates (ex VAT) and £60 for Belrim members.
FOR REGISTRATION CLICK ON THE BANNER

Where: HOTEL BRISTOL STEPHANIE
The hotel has some parking at the hotel and the address of the car park is Rue de Livourne 4. The cost would be €9 per car for the conference.
Otherwise there is a public car park directly next to the hotel at a cost of €2 per hour
When: 30/11/2017 - from 8:30 am to 5 pm
Find the preliminary programme HERE.
"We live in the era of, "yes, I can". We tell ourselves that whatever we want to achieve, if we work hard enough, we can do it. Achieve more, be the best, push to the top, reach your goals, have no limits. Yes, you can! But sometimes all this "yes, I can" results in something very different indeed: a severe case of "no. I really, really can't". And when you really, really can't, you have probably burned out." Source: https://www.theguardian.com/women-in-leadership/2016/jan/21
When burnout hits, it usually hits hard. So, how can we recognise the first symptoms? How can we recover? How can the employer help? How can we prevent it from happening? How can we create a healthy culture in our company ("Corporate Wellness"), in order to prevent burnout and give an enormous boost to our companies' ROI?
A real-life experience, the expertise of a re-integration partner and a highly effective approach to "Corporate Wellness" will lead us through the different stages on how this can and should be integrated in our daily busy lives and our company culture.
With the kind collaboration of Catherine Van Cauwelaert, REHALTO and MOOV-IT.
Sandwich lunch included.
Hosted by AMMA - avenue des Arts 39/1 - 1040 Brussels - 6th Floor
Metro: Arts/Loi
Parking: Rue de la Loi
A free e-book on "What is corporate Wellness" that can be downloaded here (in Dutch)
Take the survey: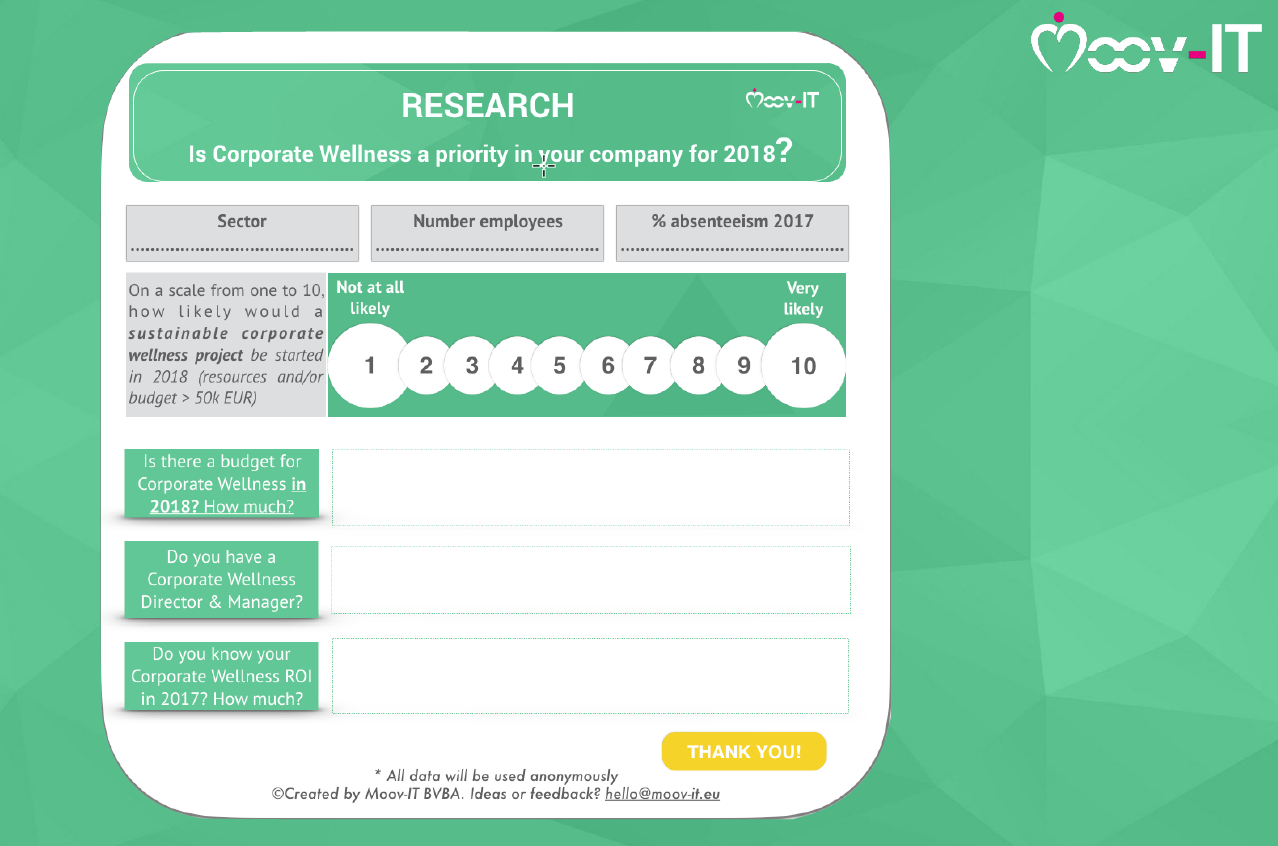 Michel de Kemmeter will be the keynote speaker at this exchange on Immaterial risks: opportunities for new growth.
At horizon 2025, lots of jobs will disappear or change totally. Businesses will be deeply impacted. People too. Lots of new intangible risks emerge, and this hyper-complexity puzzles our leaders in their strategic decision-making. 
This workshop will address economic prospective, intangible risk monitoring, to bring a new light on efficient strategies in our industries.
The exchange will start at 2 pm and will be followed by a networking drink.
Parking info: Parking
The FERMA FORUM takes place from 15 till 18 October 2017 in Monte Carlo. Find more info here.
As usual, BELRIM will hold its BELGIAN EVENING on the Sunday, 15/10/2017.
Please find the invitation below - RSVP before 12/09/2017.
BELRIM - BELGIAN EVENING INVITATION