COVID-19 is a wake-up call for our industry that reactive approaches to risk aren't good enough. Aside the risks, there are maybe some opportunities that we might (not) see, related to Covid-19.
What are your experiences as a risk and/or insurance manager? Where do you want more information about, to include in one of our next BELRIM meetings?
Let us know your insights and preferences!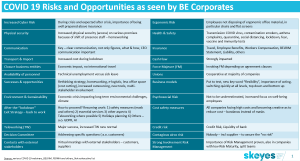 Many thanks to Adriana Cavaliere, who followed various webinars on the covid-19 topic and made this overview. Most of them where BELRIM Exchanges, and BELRIM is planning on scheduling some more!