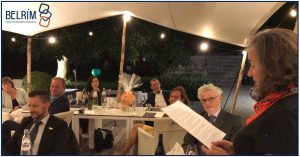 A special thanks was given on the 9th of September, to Brigitte Deckers, Sabine Desantoine and Jo Willaert! BELRIM organised a farewell dinner for these three board members, to thank them for their support and devotion to the BELRIM association in the past years.
Board Members and Scientific Committee Members took part in this festive event.
Some information about their long-lasting trajectory at BELRIM:
Brigitte Deckers first joined the board of our association in 1987, when BELRIM was still called GAI. Brigitte was one of the very few ladies on board at a time when Risk Management was mainly a manly domain. She firmly stood her ground and remained a loyal member for more than three decades. She organised many activities, exchanges and round tables, preferring to work hard behind the scenes and avoiding the spotlights. The last couple of years, she was in charge of the legal aspects of BELRIM. Brigitte has recently retired from RECTICEL where she worked as a risk manager for over 30 years. Frédéric Lycops, a member of the Scientific Committee of BELRIM, is her successor.
Sabine Desantoine joined the BELRIM Board in 2011 and took on its presidency for three years (2018-2019-2020). She managed the association with an iron hand in a velvet glove. New initiatives saw the light, such as the Diamond Sponsoring and the yearly Ladies Mind Risk event. Sabine leaves BELRIM because in her professional career she has left the risk and insurance management field and she has taken on a new position as Compliance Officer at ING. Gaëtan Lefèvre, who presided BELRIM before Sabine, has accepted this task once more.
Jo Willaert is a well-known figure in the risk and insurance community. In 2011 he became a BELRIM board member and got quickly involved in the organisation of the association's events. Networking is one of his many talents and in 2012 he joined the FERMA board to become its President from 2016 till 2019. In 2016, Jo joined the IFRIMA board, became its President from 2017 till 2019 and now continues as the Chairman from 2019 till 2021. Jo has retired from AGFA GEVAERT where Julien Rouaud, BELRIM Board & Scientific Committee member, has replaced him. But Jo is still full of energy and continues to support BELRIM as a consultant within the Scientific Committee. His career has come full circle, as he started out as a broker, that is where he has landed again, with HOWDEN.
All pictures are available here