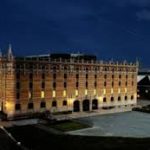 On Friday, 13.12.2013, the BELRIM Board welcomed its members and guests to the wonderful venue of restaurant Tasso at Tour & Taxis in Brussels.
About 130 people attended the event and enjoyed both the warm and friendly atmosphere and the interesting networking opportunity.
Gaëtan Lefèvre, BELRIM Chairman, gave a brief overview of the history of the Tour & Taxis building which is a landmark of the industrial architecture in Belgium. He then looked back on the past events of the year, thanking in particular the numerous sponsors of our successful Belgian Evening in Maastricht. Looking ahead, he pointed out some interesting new features on the agenda: a Ladies Lunch in January, an exchange on Crisis Management at the end of that month, a closed exchange for effective members only in February, etc. Members are strongly advised to keep a watchful eye on the website for further information on the BELRIM activities.
Another project worth mentioning is the creation of a Scientific Committee that will focus on the contacts with the academic world in order to promote risk management and to attract young professionals, as well as informing students of the BELRIM / FERMA Prize. Members who are willing to join are most welcome and can ask more information by mailing to info@belrim.com.
The highlight of the evening was certainly Fred Colantonio and his speech on the attitude of heroes. Fred, who specialised in computer science and social media, is fascinated by the attitude of modern heroes and analysed their personalities and behaviour to come up with a few interesting facts and tips we can all apply in our daily life, whether it is on a personal or professional level.
Before inviting everyone for a couple of drinks, the Chairman wished to express BELRIM's well-meant gratitude for both Roland Anciaux and Jacques Van Keirsbilck, who have served the association for a number of years and are now turning a page and retiring.